Digital Abilities Improvement Roadmap
From bridging the talent gap to incubating the right culture to changing infrastructure, every little thing should be considered when companies plan to leverage the power of a new technology.
The digital world is here. Just by downloading applications to our smartphones, we can do things that we couldn't even imagine ten years ago. Who would have ever thought that we could talk to a vending machine, interact with it, ask questions, book tickets from home and the list goes on? Behind every technological innovation that hits the market there is a team of highly qualified professionals who work together to make the innovation a success. And it is evident that employees are expected to update their knowledge and skills as technologies are introduced to take advantage of the technology.
The decision to adopt a technology is easy, but making it a success is not an easy one at all. Without a doubt, many parameters should be met before the technology is used. While bridging the talent gap ranks higher on the to-do list for companies, there are other crucial requirements such as infrastructural changes, data protection measures and an accepting work culture. Most importantly, CIOs should form a team where each employee shows a deep passion for developing new skills as needed.
Understand the current situation of companies
While almost every company understands the need to improve their employees' digital skills, few take it seriously.
A groundbreaking survey was carried out by Capgemini in collaboration with Linkedin. The survey found that nearly 50% of companies haven't taken bold steps to address the digital talent gap issue, and nearly half of companies lack digital skills. The problem is, there are few employees who have the skills necessary to use modern technology. Employees should be passionate enough to learn new skills in the allotted time. Remember, when we were kids it was never easy to learn alphabets, rhymes, and words. It is also not easy for employees to learn new things like this.
Overcoming the roadblocks
The qualification gap is of course no small matter. The demand for technology application is high. However, the resources that make a technology ready for the market are limited. Tech jobs are also in demand, but companies have a hard time finding the right talent that best suits a position. This, in turn, has sparked a battle between companies to find the most promising talent with the most niche skills. A tough competition has already started! Of course, multinational corporations with big pockets will select the most skilled workers by paying them high and attractive salaries. But what about medium-sized companies and startups? There is a worrying disparity here that will adversely affect the global economy.
The race for digitization is intensifying among companies. Every technology company tries to implement new technologies, develop future-oriented applications and be recognized for their work. But with such an imbalance, it is difficult to achieve goals. So what could be the possible solution?
Disclosure of guidelines for bridging the talent gap
Organizations recognize the need for people with excellent skills, but finding them is a tedious task. With the increasing demand for highly skilled workers, the skill gap has only widened. To investigate this burning issue, companies regardless of size can take an approach of training or retraining their existing workforce rather than hiring new ones.
Instead of wasting your time and capital hiring new candidates, you can focus solely on the resources you already have. Simply by caring for your employees, you can seamlessly drive digital innovation.
Not every company will have the same level of maturity in terms of digital aspects, and therefore the development of digital skills depends reasonably on the maturity of the digital transformation. Some companies may require less effort, while others may require more. Plus, there's no one-size-fits-all rule that companies can follow to fill the talent gap.
However, the guidelines below will guide businesses on the right path to success in the digital space. By considering the following, you can create an innovation roadmap that best fits your business needs and goals: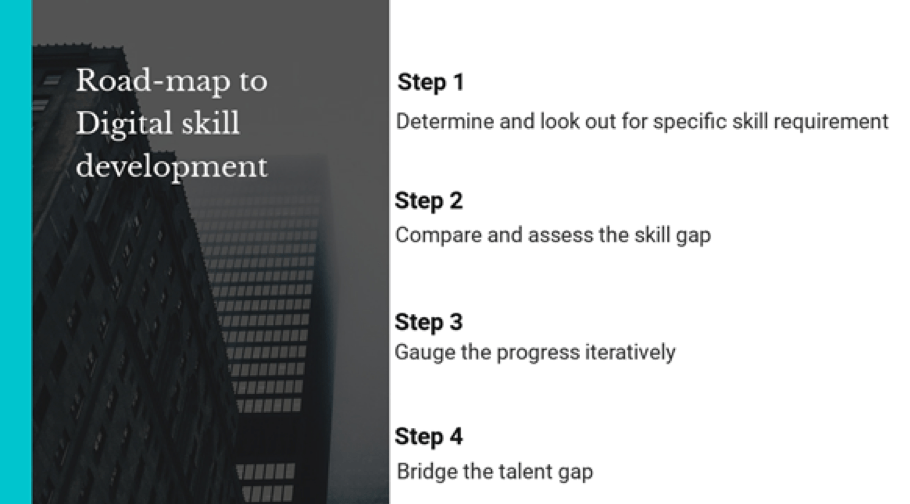 Step 1: Identify and look for specific skill requirements
The first step is one of the most important steps if your company is looking to develop digital talent. First, companies should have a clear idea of ​​what their goals are in the digital space. Of course, every company has made a list of points it wants to cover as it introduces a new technology. With these points in mind, companies should determine what skills their employees must have in order to achieve their digital goals. IT pros should work collaboratively to figure out skill requirements.
Step 2: Compare and assess the skills gap
As soon as companies know their future skill needs, they should conduct a skill gap test to determine the gap between current skills and must-have ones. As a result, companies will understand the need for new skills required to cope with digitization. The HR department should drive the defined vision further by planning training programs so that employees can expand their knowledge of these digital requirements. After the training, HR should conduct assessments to help companies understand how well the training programs have worked.
Step 3: measure progress iteratively
Through regular training programs and assessments, companies can build up a team of professionals who are suitable for the new technologies. But is that enough to drive digital innovations? No. Companies should iteratively review technological aspects. There is a high likelihood that new skill requirements will emerge after the technology is introduced. As a result, companies should conduct retraining and continuing education programs as needed to help them build a robust team of experts.
Step 4: bridge the talent gap
Do you think you have finished building a skilled workforce? Actually, you are not close to that! Bridging the skills gap is an ongoing process, to be precise. The above steps should be followed consistently so that employees are ready to work on any new project based on New Age technologies.
In order to achieve digital success, it is not enough just to fill the skills gap, there are many other important things like funding, data protection measures, data storage system, data management system, etc. that should also be considered. Bridging the talent gap, however, is a crucial first step on the long road to advancing digitization. Without meeting skill needs, companies certainly cannot achieve technological excellence. However, it is also a mistake to see this as the only need to drive the digital revolution!