Woman shoots three at Rigby Center Faculty in Idaho; Trainer disarms them
To update:
RIGBY, Idaho – Authorities say a sixth grade girl brought a gun to her Idaho middle school, shot and wound two students and a steward, and was then disarmed by a teacher.
Officials said at a press conference Thursday the three should survive their injuries. Steve Anderson, Jefferson County's sheriff, says the girl pulled a gun from her backpack and fired multiple shots inside and outside Rigby Middle School in the small town of Rigby, about 95 miles southwest of Yellowstone National Park.
A teacher disarmed the girl and held her until the police arrived and took her into custody, the authorities said without giving any further details.
All three victims were shot in the extremities. Authorities say they are investigating the motive for the attack and where the girl got the gun from.
– Associated Press
The above is an update to the latest news. The original story can be seen below.
RIGBY, Idaho – Three people were shot dead at Rigby Middle School Thursday morning, Jefferson County Sheriff Steve Anderson told EastIdahoNews.com.
Two of the injured are college students and one was an adult steward, Anderson said. The injuries don't appear to be critical, he said.
It is not clear what exactly happened; However, the school district confirmed that it was an active shooter situation.
Anderson says a student is in custody.
Idaho Falls Fire Department spokeswoman Kerry Hammon confirms that three people will be transported by ambulance to the Eastern Idaho Regional Medical Center. They are all in a stable condition, she said.
Several law enforcement agencies are on site.
Middle school students were evacuated to Rigby High School, where their parents picked them up. Rigby Middle School has approximately 1,500 students in sixth through eighth grades, according to the National Center for Education Statistics.
There are still many students in the school and officials are demanding snacks, bottled water, etc. from residents. Don't bring food to school. Please take them to the Upper Valley Child Advocacy Center on 162 N Yellowstone Highway. They will bring the food to the students.
Students who are not picked up will be taken home by bus.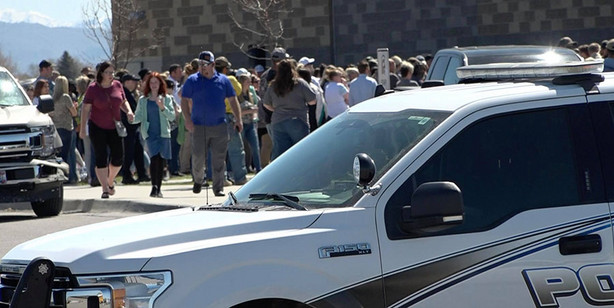 Students walk outside Rigby Middle School after shooting inside. (Photo: Eric Grossarth, EastIdahoNews.com.)
Governor Brad Little tweeted the following message about the situation.
"I pray for the life and safety of those involved in today's tragic events," Little said. "Thank you to our law enforcement and school principals for their efforts to respond to the incident. I will be kept informed of the situation."
Sherri Ybarra, the state superintendent for public instruction, also made a statement on the shootings, saying, "My prayers are with the injured at Rigby Middle School this morning Situation. The Idaho Education Association and our local education associations stand ready, ready and able to provide the assistance they need to the staff, students and the community affected by today's violence. "
I am following the heartbreaking events in Rigby today and my heart goes out to everyone involved in this tragedy. Thank you to the first responders and our heroic teachers and teachers who protect our children. https://t.co/CjZqWic5Ug
– Kong. Mike Simpson (@CongMikeSimpson) May 6, 2021
The attack appears to be Idaho's second school shooting. In 1999, a high school student in Notus fired a shotgun several times. The bullets did not hit anyone, but one student was injured when debris ricocheted off the first grenade, according to The Associated Press.
Also, a 14-year-old boy was detained in 1989 after drawing a gun, threatening a teacher and student, and taking a 14-year-old girl hostage at Rigby Junior High School, the Deseret News reported.
EastIdahoNews.com is on site and will have more details as soon as we learn more.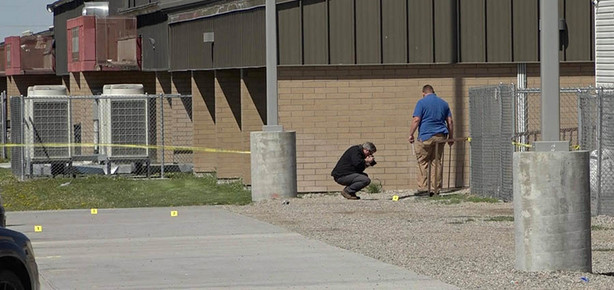 Investigators photograph evidence at Rigby Middle School (Photo: Eric Grossarth, EastIdahoNews.com.)×
More stories that might interest you